I have decided that the time is right, for me to wrap up my breeding program. As much as I have loved it, and as tough as it is going to be to no longer breed Surfer – who unquestionably is the most prepotent Morgan sire I've known – 2017 will be the last foaling year for us here at Jaquima a Freno Morgan Stock Horses.    
It has been a phenomenal journey. We have bred, raised, and trained some incredible Morgans, and made many life-long friends as a result. There are still two worlds calling me, though – my journey into Vaquero horsemanship; and seeing more of my beloved Wilderness, from horseback. 
So 2017 will be the close of a chapter. We are expecting five foals between March and May, and then the mares will be retired to be riding horses again (except España, of course). A few will be offered for sale, either as riding horses or broodmares.                   
All of the young horses will be kept coming along, of course, and I expect to continue to have Surfer get for sale, for a few more years.  Just, no more babies after 2017.

Marble Mountain Splendor  (Eden)
2000 Bay – View Pedigree
Eden foaled an incredible, and very big, palomino colt this Spring – he is even more than I expected!  Consequently,  this beautiful,  wonderfully typey Morgan mare has been bred back to Surfer for a 2017 foal.   Surfer clearly crosses wonderfully well with this stunning mare, and I expect this upcoming foal to be every bit as great as her 2016 foal is.

Degalisto's Rosie  (Maddy)
2001 Chestnut – View Pedigree
A big, bold, traveling kind of mare, Maddy is one of the very best mountain horses I have ever had the pleasure to ride.   And that's saying something!  She is extraordinarily courageous, very athletic, and loaded with "heart".   Maddy is very smooth to ride, loves to see country, and has a huge walk to get it all done in time for dinner.   I think by crossing her with Surfer, we have the potential to make a super mountain horse!   This will be Maddy's first foal, and everyone here is looking forward to seeing how the cross with Surfer will turn out.

Striking Spanish Dancer (España)
2003 Black – View Pedigree
This phenomenal mare has certainly proven that she will pass on her athleticism.  España was, after all, competing at 3rd Level in Dressage, before a pasture accident took her out of competition.  Each of her two Surfer foals has been as perfectly put together as anyone could ever want.    These foals truly demonstrate a beautiful trilogy – that is, a wonderful balance of mind, body, and spirit.   So I look forward to this 2017 foal with very high expectations!

NVS Mi Sonnetta
2002 Bay – View pedigree
Sonnetta spent several years as my primary mountain partner, from working on cattle drives to leading pack strings, and even being IN my pack string sometimes.   We have such a wonderful history together!  She even stars in a couple of the stories on my "articles" page, on this website.
Although at just over 14 hands, she is small in stature – but Sonnetta is completely fearless.  Not only will she go anywhere and do anything, she does it with style and flair. Sonnetta really IS a powerhouse of energy, and spirit.  Interestingly enough, all of her adult get have grown to become a full hand taller than she is.
I often tell people that the Sonnetta/Surfer cross is magic.  I have to say this doesn't seem to change – her foals are completely amazing in every way.  Bred to Surfer for 2017, this one will certainly be no different.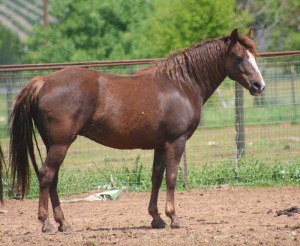 Treasure Aurora
2004 Foundation Chestnut – View pedigree
100% Foundation, Aurora and Surfer together made one of the most perfectly-put together colt I've seen, in 2013.  He is a powerhouse!   Sadly though, the next two foals were lost at 10 months gestation.  But I am trying one last time, so fingers are crossed!  Aurora will be retired from breeding after 2017, to once again become the wonderful riding horse she is.  Meanwhile though, I very much look forward to her 2017 foal.

While we still have young horses out of these fine mares, each of them has been sold to loving homes where they can continue their previous careers as superb riding horses.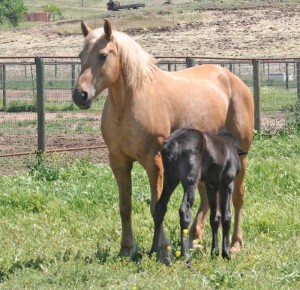 Triple S Nita
1993 Palomino
A stunning, huge palomino of very strong WWF breeding, Nita was leased to us for several years by her owner, Lynn Brown of Long Beach. Nita had been a broodmare for several years before Lynn purchased her, but had never been ridden. Lynn sent Nita to me and we got her started under saddle. Nita more than earned her keep working in my pack string for years. Nita has had foals for us by Zorro, Chalk Mt Sunny Mac, Surfer – and her last foal (pictured here in this 2012 photo) was by the stunningly beautiful JaF Smoke 'n Guns.. Nita has the coolest, most laid-back personality ever and she really loves human contact. She's truly a joy to be around and her foals are completely wonderful.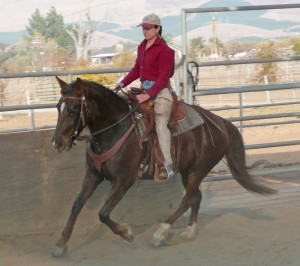 Treasure Donna
Donna is from the great Treasure Morgans in Montana, as is Treasure Aurora.   Line bred on top to the late great Morgan stallion Californio, I really wanted to see how this mare would nick with my stallion, JaF Sunrise Surfer Dude  (who also goes back to Californio).   Well, while the nick is more than I could ever have hoped for  ( JaF Calico Treasure), I have been talked out of this mare and she is headed to her new home with my friends Mike and Margaret Jepsen.  Congratulations!
La Bonita Primavera
(by Primavera Valdez)
Hanna is such a terrific riding mare that I had trouble making myself breed her.   I did finally breed her though, and the result is the lovely and talented JaF Senorita del Rio Roja.   Well, all good things do seem to come to an end, and Hanna caught the eye of a fellow Vaquero Horsewoman and consequently they are now together in Northern California as riding partners.