I have taken a fair amount of friendly and very well-meaning "heat" from many friends, over last years decision to end my breeding program. So, after pondering the issue even harder than I did before making such a monumental decision, I caved in and have seven mares bred for 2018. Seven!!! Four are Spring foals, and three are expected in Fall.
I've been blessed with several truly awesome, knowledgeable, and talented buyers who have picked up several of my young horses, some as young as 6 months, and this has made it easier for me to breed my fabulous mares yet again. It's all about time – there are only so many hours in the day, and it's important to me to keep all my horses going well. However, with my overall numbers declining, I find that I actually can go for another year …or perhaps even two!
---
JaF La Bella Muñeca (Muñeca)
2011 bay – View Pedigree
I am pleased and very excited to announce that one of Surfer's daughters has been bred to Sue & Derrick Olson's stunning homozygous dun stallion, Amberfield's Blaze N Dun! It was truly a gift to have Blaze here in CA, and close enough that Muñeca could go visit him in late Fall of 2017. She is expecting a late October foal. I can't articulate how much I'm looking forward to this very special addition to my herd!
---
MtnTop Isabella (Bella)
(MtnTop Whippoorwhill Tanek x War Le Fire Bird)
2012 Foundation Homozygous Black – View Pedigree
Another 100% Foundation mare, Bella came here to cross her bloodlines with those of my stallion, Surfer. I did that, and was thrilled with the result! Thrilled enough that I bred her back for a Fall 2018 baby. Bella has been started under saddle, and her training will continue until she is too heavy in foal to get a saddle on. Bella would be a fabulous addition to any breeder's program, and I would consider selling her in foal, to the right buyer. If that doesn't come about, I will be super pleased to welcome a black, or smokey black, Surfer foal to my ranch!
---
Marana Blonde Bombshell (Honey)
2009 Palominio – View Pedigree
I have to confess, this particular cross was a bit of an…umm…accident. Although I love both Honey's conformation and her mind, I always worry about rolling the dice & potentially coming up with a perlino. So, as badly as I wanted to breed her – I didn't actually intend to do so! But clearly she had other ideas, and she is expected to foal in early Spring of 2018. Whatever color this foal is, it will be a wonderful addition to the Morgan world.
---
Marble Mountain Splendor (Eden)
2000 Bay – View Pedigree
Eden has foaled two incredible, and very big, palomino colts so far. Consequently, this beautiful, wonderfully typey Morgan mare has been bred back to Surfer for a 2018 foal. Surfer clearly crosses exceptionally well with this stunning mare, and I expect this upcoming Fall of 2018 foal to be every bit as terrific as her two previous foals have been.
---
Striking Spanish Dancer (España)
2003 Black – View Pedigree
This phenomenal mare has certainly proven that she will pass on her athleticism. España was, after all, competing at 3rd Level in Dressage, before a pasture accident took her out of competition. Each of her three Surfer foals have been as perfectly put together as anyone could ever want. These foals truly demonstrate a beautiful trilogy – that is, a wonderful balance of mind, body, and spirit. So I look forward to this April 2018 foal with very high expectations!
---
NVS Mi Sonnetta
2002 Bay – View pedigree
Sonnetta spent several years as my primary mountain partner, from working on cattle drives to leading pack strings, and even being IN my pack string sometimes. We have such a wonderful history together! She even stars in a couple of the stories on my "articles" page, on this website.
Standing just over 14 hands, Sonnetta is small in stature – but she is completely fearless. Not only will she go anywhere and do anything, she does it with style and flair. Sonnetta really IS a powerhouse of energy, and spirit. Interestingly enough, all of her adult get have grown to become a full hand taller than she is.
I often tell people that the Sonnetta/Surfer cross is magic. I have to say this doesn't seem to change – her foals are completely amazing in every way. Bred to Surfer for an early March 2018 foaling, this one will certainly be no different.
---
Treasure Aurora
2004 Foundation Chestnut – View pedigree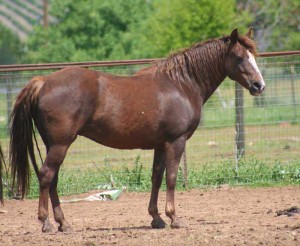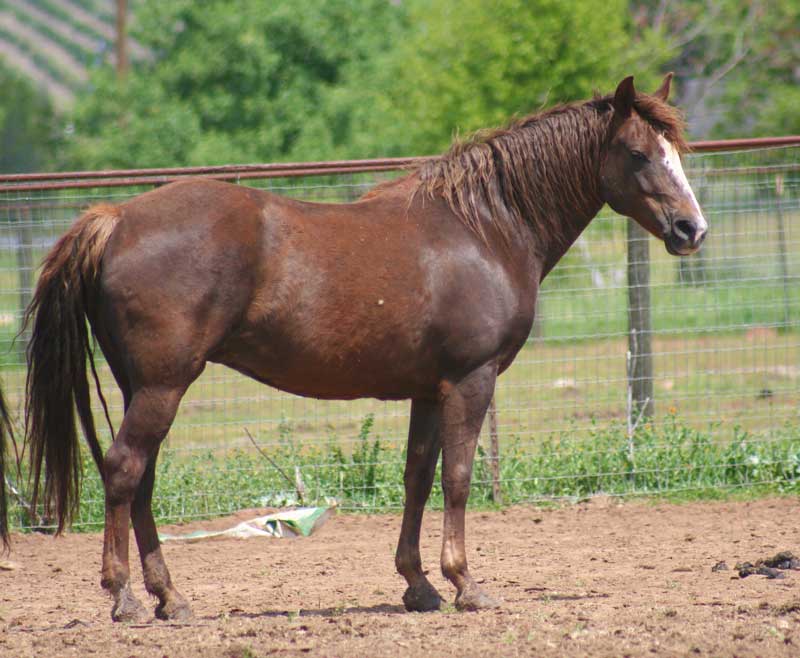 Aurora and Surfer together make wonderfully stout, smart, and super well- put-together colts. Aurora has had 2 identical palomino colts so far, and is bred back for a March 2018 foal. Aurora will be retired from breeding after 2018, to once again become the wonderful riding horse she is. She will be for sale.