As much as it pains me to halt my oh-so-rewarding breeding program … it is the end of an era for me. I am finally ready to spend more time riding with my friends, and hopefully bringing along a bridle horse or two – things there simply hasn't been enough time for, with so many foals & young stock to school. I know it will be a painful adjustment, and that I will miss watching youngsters cavorting about. At the same time though, I look forward to an increase in time spent on the trail, and to continuing both my own, and my horses' education.
With this decision finally made, some of these amazing broodmares may be available for sale.
Bella second Foundation filly, JaF La Dulce Adelita, was born in Fall of 2018. After weaning her filly, Bella completed her training and is now living with her new partner on a ranch in Cayucos.
JaF La Bella Muñeca (Spanish: The Beautiful Baby Doll)
(JaF Sunrise Surfer Dude x Ranchboss Foxy Roxie)
2011 Bay Mare
Bred to Amberfield's Blaze 'n Dun, Muñeca foaled a stunning grulla filly in late 2018. Now she is ready to go back into training as a riding horse, and is for sale. She is a gorgeous mare, and a beautiful mover.
Marana Blonde Bombshell (Honey)
Honey was given her barn name not because of her color, but because of her personality.  She is wonderful!  Heavily Lippitt-bred, she is a super-stunner to the eye, as well. I have to confess, this particular cross was a bit of an…umm…accident.   Although I love both Honey's conformation and her mind, I always worry about rolling the dice & potentially coming up with a perlino.  So, as badly as I wanted to breed her –  I didn't actually intend to do so!  But clearly she had other ideas, and she is expected to foal in early Spring of 2018.  Although I would consider selling her to the right person, she is a favorite riding horse of mine.
Marble Mountain Splendor (Eden)
Eden has foaled three incredible, and very big, palomino colts so far. Consequently, this beautiful, wonderfully typey Morgan mare has been bred back to Surfer for a 2020 foal. This foal has already sold.
Striking Spanish Dancer (España)
This phenomenal mare has certainly proven that she will pass on her athleticism. España was, after all, competing at 3rd Level in Dressage, before a pasture accident took her out of competition. Each of her three Surfer foals have been as perfectly put together as anyone could ever want. These foals truly demonstrate a beautiful trilogy – that is, a wonderful balance of mind, body, and spirit. España's last foal is due around March 30, 2020.
Sonnetta spent several years as my primary mountain partner, from working on cattle drives to leading pack strings, and even being IN my pack string sometimes. We have such a wonderful history together! She even stars in a couple of the stories on my "articles" page, on this website.
Standing just over 14 hands, Sonnetta is small in stature – but she is completely fearless. Not only will she go anywhere and do anything, she does it with style and flair. Sonnetta really IS a powerhouse of energy, and spirit. Interestingly enough, all of her adult get have grown to become a full hand taller than she is.
I often tell people that the Sonnetta/Surfer cross is magic. I have to say this doesn't seem to change – her foals are completely amazing in every way. Sonnetta foaled her last baby for me in Spring of 2019 – a gorgeous buckskin filly – JaF Sunrise Mtn Venture.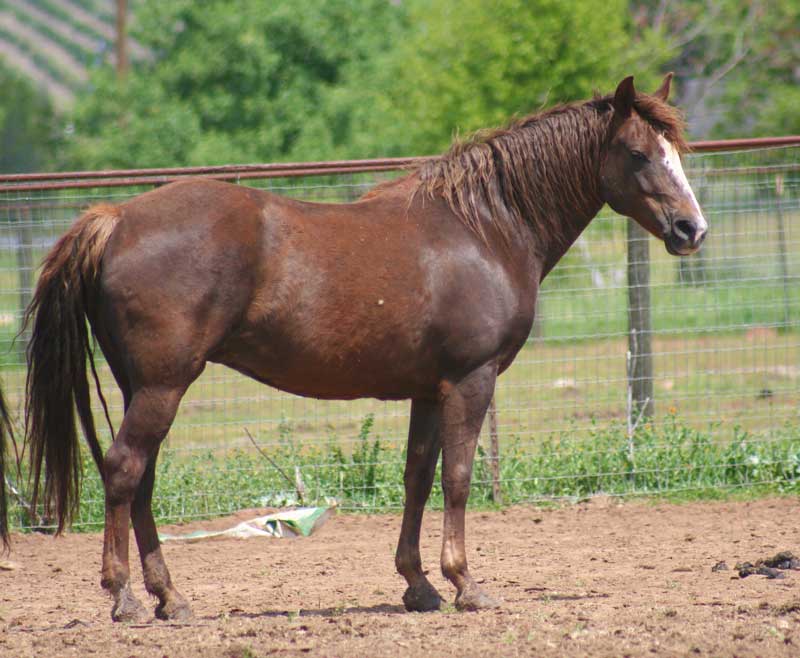 Aurora and Surfer together make wonderfully stout, smart, and super well- put-together colts. Aurora has had 2 identical palomino colts so far, and is bred back for a March 2018 foal. Aurora will be retired from breeding after 2018, to once again become the wonderful riding horse she is. She will be for sale.