Many of these young horses may be for sale and would be listed with more information on our Sales Page.
However, if you are interested in a horse shown here that is not currently on our Sales Page, please feel free to contact us at any time!
JaF Dulce Adelita  (Adelita)
(JaF Sunrise Surfer Dude x MtnTop Isabella)
2018 100% Foundation Bay filly
This is Bella's 2nd bay filly by Surfer – and she is a beautiful, stout, big boned girl!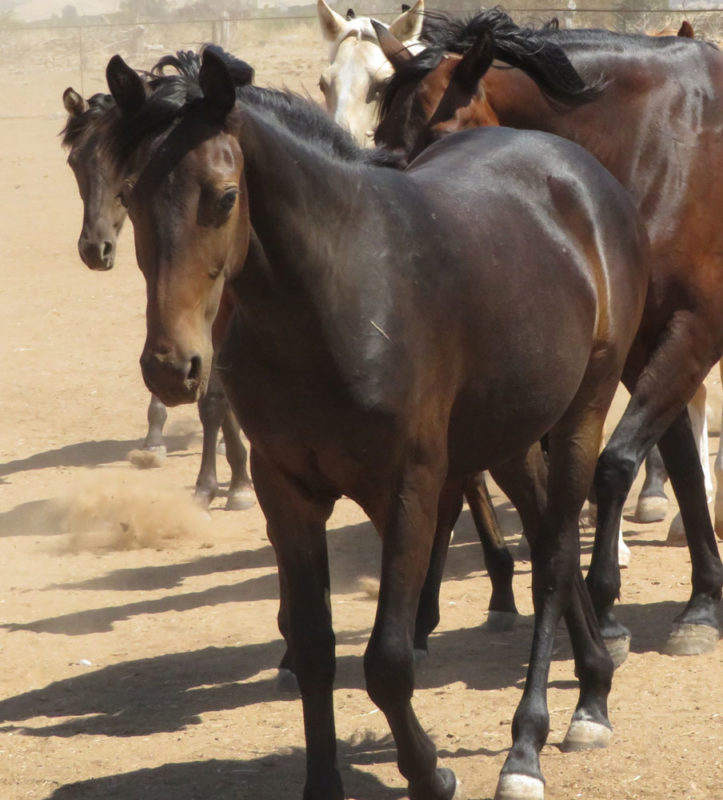 JaF Soldado de Juguete (Soldier, Spanish for Toy Soldier)
(JaF Sunrise Surfer Dude x NVS Mi Sonnetta)
2018 bay gelding
JaF Sol de Medianoche (Micah)
(JaF Sunrise Surfer Dude x Marble Mtn Splendor)
2018 Palomino colt
Eden has foaled 3 palomino colts, 3 years in a row, bred to Surfer. All are huge, the oldest, at 2 ½, sticked at 15-1. This colt is no exception, although he is much darker than his brothers – he looks like he may be chocolate.
JaF Sunrise Starsnstripes (Raya, Spanish for Stripes)​
(Amberfield's Blaze 'N Dun x JaF La Bella Muñeca)
2018 Grulla Filly
Born tiny (her dam was a maiden), this filly did not nurse properly and needed medical intervention the first 36 hours of her life. This hasn't slowed her down in any way, though – she is big, and beefy! She will be remaining with me.
JaF Bailar Conmigo (Bailar, Spanish for Dance With Me)
(JaF Sunrise Surfer Dude x Striking Spanish Dancer)
2018 Bay filly
JaF Christmas Bonus (Eve)
(JaF Sunrise Surfer Dude x Marble Mtn Cassteelya)
2018 Buckskin filly
Another bundle of energy, Eve (named this because she was born on the eve of Christmas Eve) is really working at getting her dam back in shape. Eve's dam, Marble Mtn Cassteelya, is full sister to our incomparable broodmare, Marble Mtn Splendor.
JaF Tehipite Treasure (Chula)
(JaF Sunrise Surfer Dude x Treasure Aurora)
2018 Chestnut filly
JaF Halcón de la Noche (Spanish = Night Hawk) (Night Hawk)
Sale PendingJaF Ser un Halcón (Spanish = Smart as a Hawk) (Einstein)
(JaF Sunrise Surfer Dude x Marble Mtn Splendor)
2017 Palomino colt – View Pedigree
Einstein is growing up to be nice big guy. And boy, is he a people lover! Calm, easy-going, and beautiful, he is quite popular among visitors here. At just 3 this year, Einstein will be saddled & his groundwork will be reviewed, but he won't be ridden till he is 4.