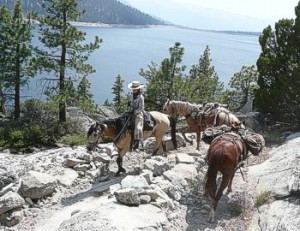 Stock packing has been a major passion of mine since I was a child. The Wilderness in particular has always drawn me, and because of this love I have been blessed with the opportunity to develop a business in Contract Packing.
I offer many stock-related services aimed at making life simpler for the USFS, Park Service, BLM, and other Agencies who, on occasion, find that they need supplies or other materials transported into or out of the Wilderness – safely, efficiently, and with cost-effectiveness in mind.
For any Wilderness stock-related activities, the utilization of a qualified Packing Contractor is an excellent option. There are many situations that can arise where the effective transportation of goods and materials might be needed here. Some examples I've come across so far:
A CCC or other trained Trail Maintenance crew is set up to rehab trails deep into the Wilderness. Usually these are week-long spikes, and they might even have been contracted for several of these spikes throughout the summer. They may even need to be leapfrogged from camp area to camp area – and all their necessary food, gear, tools and other equipment must go with them each time they move.
Maybe this is a Wilderness Trail Crew – planning to be in the Forest for months straight. They will need mail delivery and pickup. They will need re-supplies of food and the fuel to cook it. They will likely require new tools to replace broken ones, as well as a myriad of other items as the summer progresses.
Perhaps this Trail Crew needs building materials such as bridge timbers; or equipment and supplies to shore up a retaining wall.
It might be that a remote Lookout station needs supplies delivered regularly.
Maybe there is a marijuana plantation that has been located and destroyed, and the materials and trash need to be hauled out.
Or perhaps there is a fire in the Wilderness and goods need to be transported to replenish Fire Crews. Sometimes helicopters can, and do, handle this…but if weather conditions prevent their flying, pack trains are an excellent resource.
What if you need to create some fire breaks in a hurry? Horses and mules have been used for centuries to pull plows and drags, and can cover ground much faster and with less wear and tear on human bodies.
It might be that you have many miles of long-unworked trail in rough country, and you know that to flag this trail on foot might take an inordinate amount of time and effort – this can be done quickly and efficiently from horseback.
These are issues and situations that I have knowledge about. I have been packing on and off for over 35 years, and providing pack support with the USFS and Park Service for over a decade. I've been fortunate enough to work with these agencies in a few different capacities: volunteer packing as a member of Back Country Horsemen of California, as a Temporary Hire working with pack strings, and finally as a Packing Contractor.
Depending upon your needs, I can show up with 5 to 15 head of gentle, well mannered stock, and up to three outstanding packers with many decades of experience.
Mine is a woman-owned small business, I am a member of the CCR, I maintain an up-to-date EERA, and also maintain both my Fire Refresher Safety Training and Emergency First Response Training.
Additionally, I am a member of the Back Country Horsemen and a Master of Leave No Trace Wilderness Stock Camping Ethics. I strive to be as gentle on the land as possible, but at the same time I am also efficient, effective, trustworthy….and economically viable.
If you find yourself requiring services such as Packing, Trail Condition Reporting and Flagging, or any other stock related activities I hope you will contact me. Having been born and raised on a self sufficient farm, I am certainly no stranger to hard work. You will find that my standards are exceptionally high, and I am proud of the fact that I perform my job in a professional manner, with safety uppermost in my mind at all times. I know you will be pleased.
Jo Johnson
Jaquima a Freno Morgan Stock Horses and Contract Packing
(559) 284-9208
Email
DUNS #827116968